Fall has arrived, carried on the sharp wash of cool air streaming through the open window in the morning. I wish I could push it back, force the leaves to turn green again, and will summer to stay in place. Time is not our friend, and the change of seasons is yet again a reminder of the puniness of human desire to bend the world to our bidding.
The past weeks have been thrilling and exhausting but, overwhelmingly, humbling. We are humbled by the generosity of people, many strangers, to help give Colin and our family incredible experiences. We are humbled by Colin himself, who persists onward despite bumps that seem to be the beginning of a terrifying precipice, but we have always ended up finding the road again beneath our feet.
When we first received the news of Colin's MRI results, it was clear that we had to shift our focus to the very near term. As a result, it became difficult to plan more than a week or so in the future. As the days and weeks have slid forward and Colin's overall clinical condition has not really changed, we have relaxed our view. The trip to Orlando was an incredible whirlwind, though we fortunately did not try to be overambitious in our goals. We accepted each day and whatever limitations it might bring as long as we were able to do what Colin wanted.
Officer Colin
The most significant event of the past weeks was Colin's swearing-in as an honorary officer of the Ithaca police department. Hundreds of people showed up, including the entire fourth grade at Northeast Elementary, who sat clustered together with lunch bags in hand. The kids chanted "Colin! Colin!" as we pulled up with Chief Barber. The road into Stewart Park was lined with law enforcement and other first responders.
The news coverage of the event was incredible, with one piece at ABC viewed millions of times (Google "Colin Hayward Toland" for news coverage). All of this mattered deeply to Colin. One of my favorite photos from the day is Colin standing alone in a sea of microphones and cameras answering questions. He was in his element, strong and confident, looking very much an officer in his sunglasses and uniform. As the story grew and spread, he wanted to know that his message of determination affected people. It has, and this story of resilience and hope—of community and compassion—has been a positive force. It is all that any of us can hope to achieve in this world. At nine, Colin has sparked something magnificent and beautiful and derived irreplaceable satisfaction as a result.
We had thought, or feared, that this would be Colin's swan song, but Colin is writing his own narrative. From a medical perspective, I don't know what to think, but all the scans in the world matter less than how Colin is living his life today.
A Tender Victory
That said, the stress lives just below the surface and it can emerge (too) easily or leak through unexpectedly. We relish the good days, the laughs and silly dances. We catch our breath when Colin is tired or when he starts vomiting: this is it, the beginning of the end. It hasn't been, yet that palpable tension seasons the air, adding stomach-clenching dread to the sun-dappled chill of the early days of autumn.
We are so lucky. Colin has threaded the needle countless times in these last years and continues to manifest the wondrously improbable. When it feels like Colin's luck will run out, it goes very much the other way, blossoming into a new gift that we grasp in delicate fervor. We have lived in the anxiety-ridden mental and emotional space of capturing every moment, pursuing every wish. That energy is impossible to maintain and I remind myself the basic tenet of medicine: look at the patient.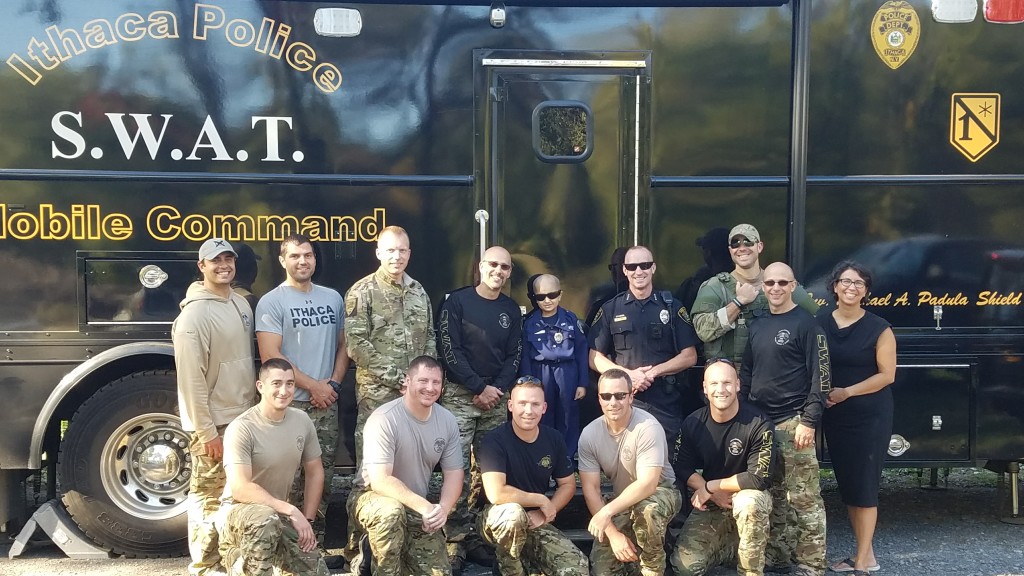 I look at Colin and I do not see a child in gradual decline or one who is receding from life. He relishes his interactions with others and, most especially, his shifts on duty with the Ithaca Police Department (IPD). We started with a shift briefing and tour of the department and have expanded from there: walking the beat on the Commons; a tour of the local FBI office; a tour of the 911 emergency response center and chance to get on the radio with a fellow officer; SWAT training; a visit to classrooms at Northeast to discuss policing.
Colin's police activities have become so significant that we started a Facebook page devoted to them (@OfficerColin). The community has embraced his mission and also Chief Barber's and the IPD's commitment to making Colin's dreams come true. This isn't simply about one child, nor is it a PR play for positive attention to a profession that can easily plunge into the depths of controversy and divisiveness. We are witness to a genuine and organic expression of appreciation among all elements of the circuit: local law enforcement, the community, and, of course, Colin himself (and his doting family).
Today and Every Day
This child, the one who wants to field questions from first graders on policing, is living life, regardless what is going on with his body. We live one day at a time but we allow our eyes to envision a horizon that is further out. It may all come crashing down at any moment, but it is better to live life and be prepared for that moment than to live it anticipating it constantly. My greatest fear right now is losing out on opportunities because we are so nervous about a future that is impossible to predict.
Colin's trajectory has been crazy and unpredictable and is no less so at this stage. Whatever risks we assumed with the last brain surgery have paid off in spades. Before we left for Memphis, we could feel him fading, slipping closer to the edge, and now he as a person is in a place we have not seen in a long time. This time is precious and, to use one of Colin's favorite words, "fantastic," and we will drive the bus until the wheels come off.
The Last Outdoor Swim
I've been swimming indoors exclusively for weeks now, but before retreating inside relished the last mornings under the open air. One morning in particular, the moon was high in a clear sky, illuminating the water as the sun rose without fanfare, a gently increasing wash of light and tinge of color. It was worth the just-too-cool water that forced a steady pace and no dilly dallying jumping out of the pool. The next swim, which was our last, we met cold damp air under a murky sky: no moon, or only traces of fuzzy light behind the thick layer of Ithaca cloud cover. It was a sharp contrast to our penultimate swim and, if I had to choose, on the last day I would have preferred to climb out of the pool still ensconced in the cloak of that morning's magic.
We don't get to choose which morning is the last swim. One could say that the dreary one was more apt or just have called it quits and avoided the dank gray morning altogether after hitting such a high note. I have found swimmers to be a stubborn lot, undeterred by cold water, floating bandaids, or lurking clots of hair. The last day is the last possible day, whether it sparkles in ethereal beauty or is punctuated by frigid splashes of rain.
Considering the microscopic stature of human will and its impotence in controlling the course of life, our gratitude for the magical brilliance of these days is immeasurable. The moments flow, one to the next. We have had to shed the pressured panic that things will abruptly change, though that specter follows us close on our heels, its shadow periodically sending us into a shivering chill that passes when the light hits us full on again. We perch in a delicate balance, one that we know to be supremely vulnerable but that feels invincible with each small giggle and giant hug.