Colin has completed 13 of 30 radiation treatments and is more than halfway through the portion of treatment (20 sessions) that involves the whole brain and spine. This is our lucky 13, lucky in so many ways. We are lucky to be here at all and witnessing the joy of a child who had been slipping away from us only a month ago. We are lucky that he is cruising through treatment and cooperative with the process.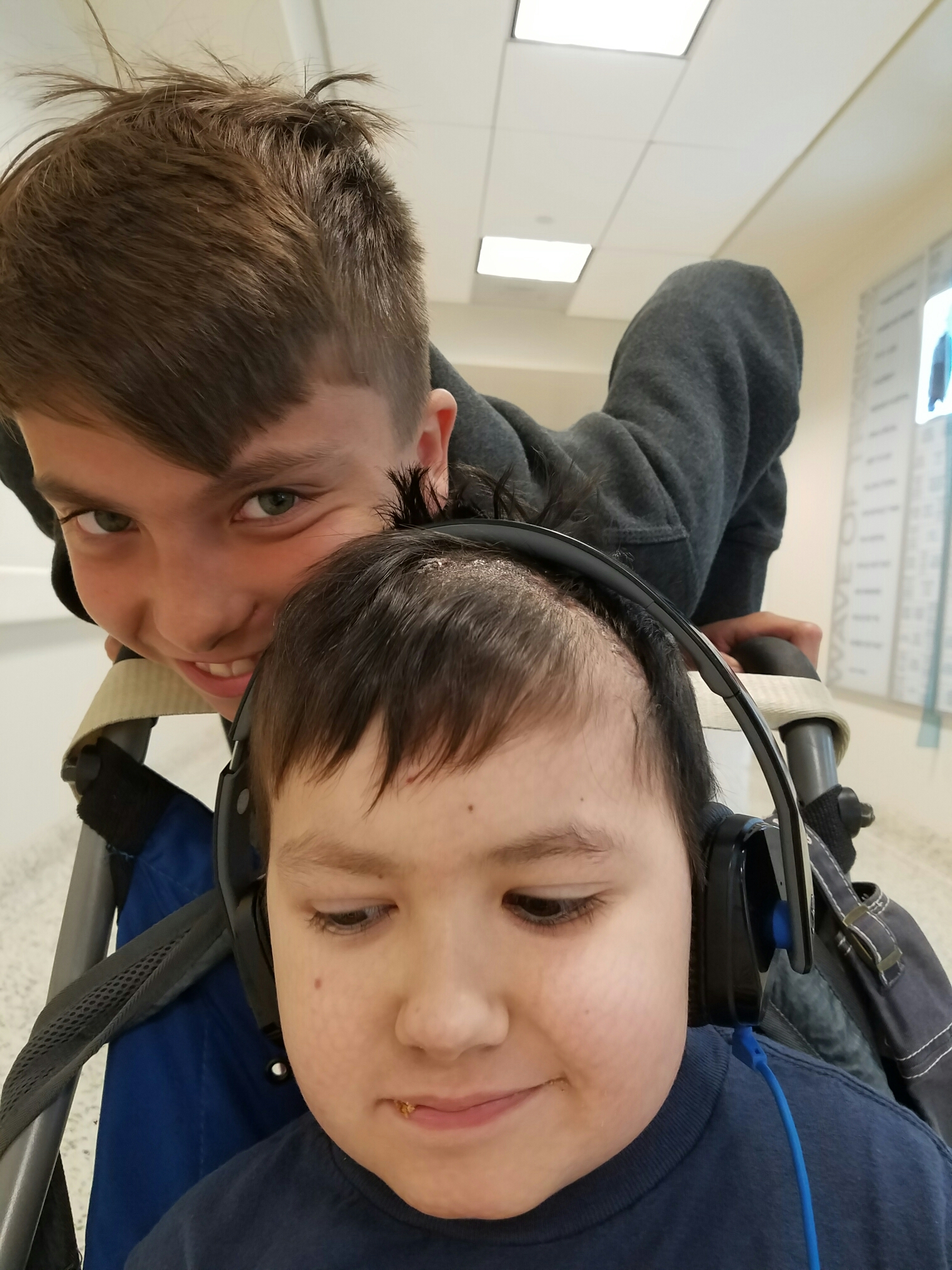 Last week, they prepared for the last 10 treatments, which will be in the new proton therapy center. They had to make a new mask to restrain Colin's head and had forgotten that he had been asleep when they made the first mask, so it was an unexpectedly new experience for him. It involves dipping a plastic mesh sheet in hot water and then pressing it down over the patient's face. He later told me that the plastic was hot and he had to close his eyes to keep them from "burning up," but that was the extent of his drama.
Colin is the model patient, as he always has been. This underscores the reason we are so sensitive when he does express resistance. Whether it is the familiarity of this place or the fact that he really is feeling good—he has not had a single bout of headache and vomiting since surgery—he has been quite cooperative as long as we tell him what appointments he has coming up and what they will entail. The only medical procedures he dreads remain the same: needles and eye drops, though not in that order.
Eye drops are "the worst thing in my life," Colin exclaimed, when I told him that his ophthalmology appointment would require them. He covered his eyes when the nurse swooped in with the dropper. I helped hold his arms down but wouldn't do it until he removed his hands in the first place, which he did, despite the fact it was the worst thing in his life. I could dwell on the fact that I gave him a not-purely-loving bear hug for those few minutes of sincere complaining and resistance or the fact that we should all be grateful that a few seconds applying sticky drops were apparently worse than anything else he experiences.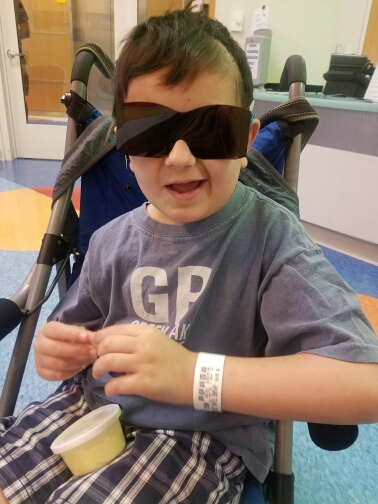 After a minute, he recovered fully and proclaimed that it wasn't that bad. This is always how it goes for him in the end with something unpleasant: it's not so bad. Even now, he sometimes panics a bit over the port access needle. It is a gnarly looking thing, large gauge and ¾" long with a kink at the end, but in actuality it's not very painful as long as it goes in correctly the first time. After it does and we see the gorgeous flash of blood return that indicates it's placed properly and functioning in both directions, he sighs and proclaims with a playful smile, "That wasn't so bad."
Our greatest difficulties are with things like the adhesive left over from port dressings, which I don't bother to assiduously remove because he gripes about it so much. By the same token, I largely leave alone the various semi-solid materials adhered to his hair after neurosurgery. We have learned to shave his head (we didn't have the heart to do it this time) or ask for the surgeons to take off a larger swathe of hair when they prep. It seems like surgical machismo to remove the least amount of hair, but it also creates more of a mess in the aftermath.
Hair Today, Gone Within the Next Few Weeks
This time, the strategy paid off except for a few chunks of DuraPrep (antimicrobial to prep before surgery) and DermaBond (skin glue); counterintuitively, the prep is the worse offender of the two. We have expected all of the hair to fall out anyway, and that process seems to have started, which makes me irrationally sad. Like the first hints of fall, a few strands fell out, but the leaves are departing from the branches quickly, strewn across pillows and shirts, and it's easy to see there is a time when they will be bare.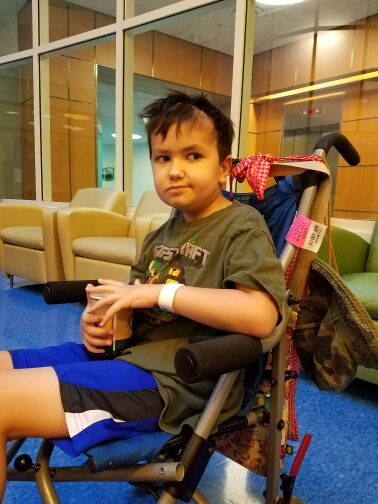 With this treatment, we don't expect it to grow back or, if it does, it will probably be wispy and very thin. It's only hair, but Colin also expressed concern about it and he's self-conscious about his appearance. He's extremely sensitive about the facial palsy that remains as well as his uneven smile and facial expressions. The deficits are modest and, compared to the profundity of his original palsy, nearly fully recovered, but he can see it in the mirror, contorting his face either in an effort to get it to obey his commands or expose the asymmetry.
A year ago, we were more concerned about preserving his then-current quality of life, which included a fairly normal existence at school and with peers. As much as I would love to spare Colin from unwanted side effects of treatment, every current alternative is inferior to this one. In the short term, this treatment has been a breeze. He hasn't had apparent issues with nausea and vomiting. We give him an anti-emetic to control it, but even when we skip doses, it doesn't seem to matter.
I've been giving Colin extract of the herb boswellia, which has in studies reduced edema associated with tumors and radiation. Even so, it's understudied and, while we weren't discouraged from using it, neither were we encouraged. It's impossible to say definitively whether it's making a difference right now, but everybody who sees him is surprised at how far into treatment he is while still looking quite well. I'm frustrated that it isn't better studied and standardized since it is an effective anti-inflammatory that crosses the blood-brain barrier. I also have no way of verifying the contents of the capsules I buy, adding another layer of uncertainty, but I press on.
In the past month, we have gone through the process of making very difficult decisions, pivoting 180 degrees to reorient our day-to-day existence around Colin's treatment, and again launching into the irregular daily routines of hospital life. It's been such a whirlwind that we haven't had the time to feel anything other than gratitude for this opportunity and for the joy of seeing a very happy child who finds comfort here, at this hospital, among these people, many of whom have known him since 2009.
Chance, one of the radiation techs who often takes him by the hand back to the treatment table, used to take care of our little guy when he was sedated. It doesn't matter that Colin's disease is relentless and prolific. What Chance sees is the triumph of a childhood realized, a little boy who has overcome much to be just that, a little boy. There is a pillar in the entry they pass through, a thick blue column covered in small mosaic tiles. Colin lets go of Chance's hand and scampers around the pillar, hiding and giggling in what has become a daily prank.
In the halls, people often exclaim how much Colin has grown. For a while, it baffled me because he hasn't grown at all in the last year since withholding growth hormone. I then realized that they weren't referring to last year's Colin but the Colin that left here in 2010. That version was not just small but also incapacitated, saddled with a trach and feeding tube. What they mean isn't so much that he's grown but that he's recovered and he like a real boy. People who don't know or appreciate his history would see a child in a desperate situation. At St. Jude, Colin is still a story of triumph and perseverance. He is still the reason they come to work every day, even if what they are giving us now is not many years but a few fistfuls of months.
Seven Years
A week ago, we celebrated Colin's ninth birthday, marking seven years since his original diagnosis. Technically, the anniversary of his diagnosis is the 14th, both Flag Day and our anniversary. It's hard to know what to celebrate! With the flurry of activity leading up to Colin's birthday, we had abandoned all of our original plans to have a huge bash at home. This will have to be delayed until our return and it will happily be a party with a decidedly different flavor. For his actual 9th birthday, we had a few friends come to our room at Tri Delta House at St. Jude.
Our friend Penny brought a cake and, in trying to fulfill his request for an appropriate theme, discovered that the bakery could neither do Skylanders nor Minecraft. I suggested something happy, with a smiley face, and Colin mischievously chimed in: "Creepy smiley face!" Henceforth, any other age appropriate suggestion was out of contention (Angry Birds? Star Wars?); creepy smiley face it was, though neither of us could imagine what that meant.
The cake, when it arrived, was a masterpiece of creepy smiley faces, psychedelically melting against a tie-dyed background. Smiley faces on LSD? I asked. In a brilliant stroke, Penny found a pair of socks at Spencers that the bakery scanned to make the cake. The tops of the socks read "Have A Nice Trip!" and are an unforgettable part of Colin's birthday ensemble. Sometimes, life provides the perfect confluence of events that results in such things as the Creepy Smiley Face birthday cake.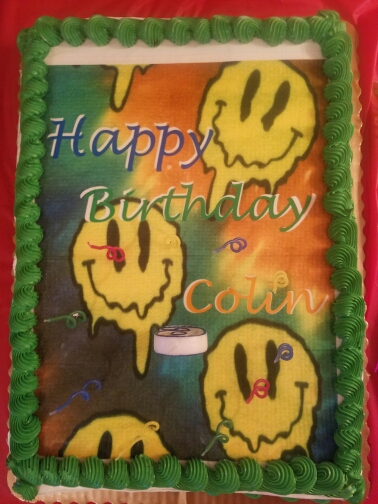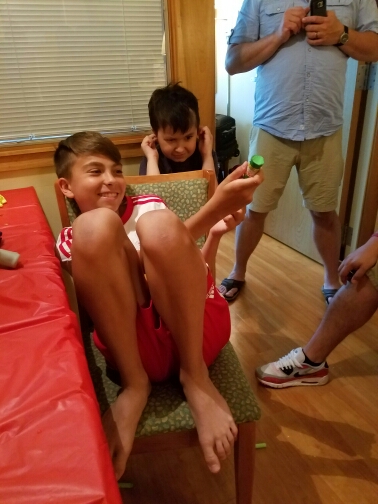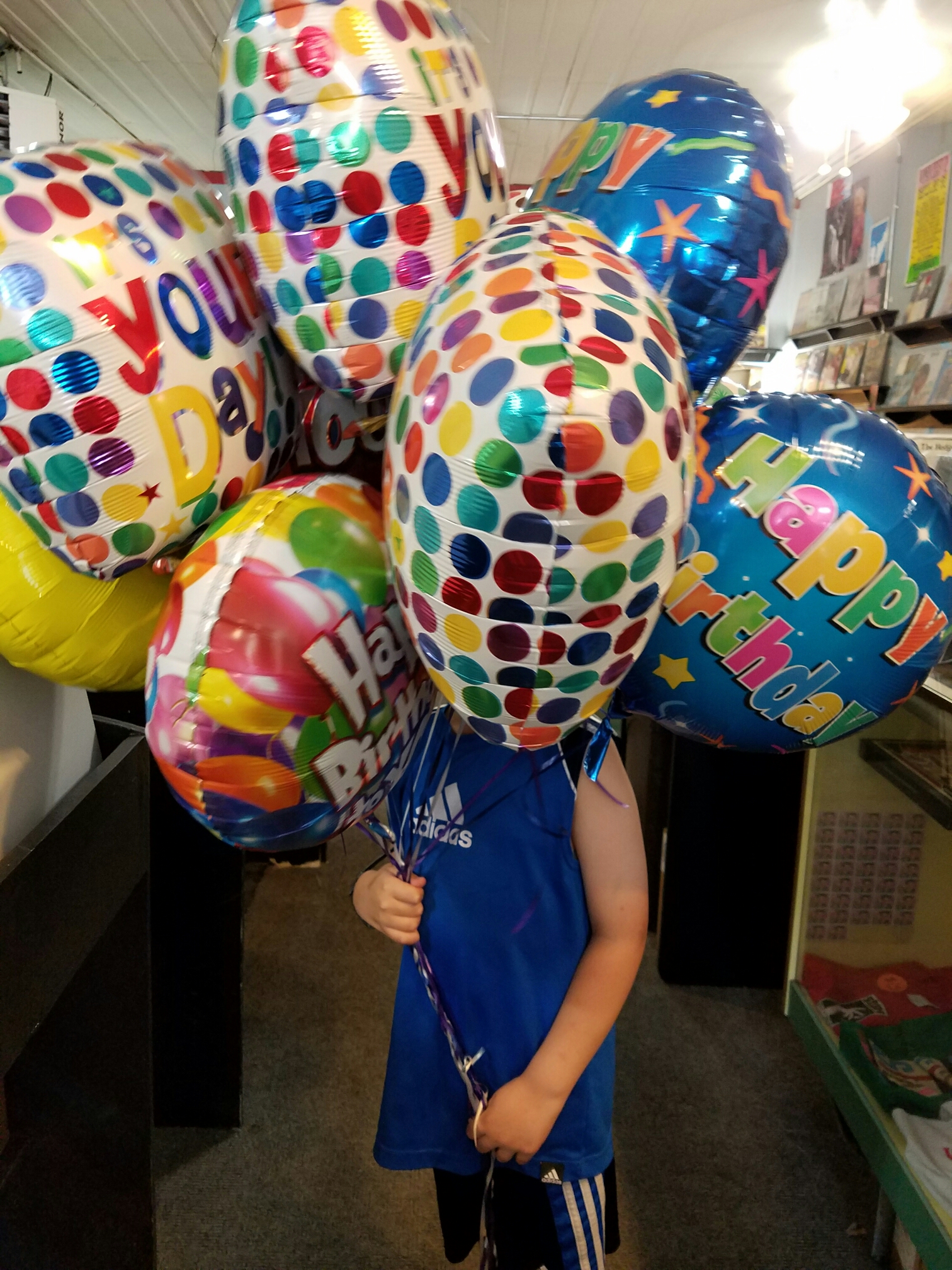 We spiffed up the room with a bouquet of mylar balloons from our friend Val and some decorations from the Dollar Tree, the one that was robbed recently. ("Who robs the Dollar Tree?" Aidan asked in disbelief when he heard the story.) The store is in a section of town I've never been to, south of downtown, past expanses of empty storefronts. Parts of Memphis are thriving, but this area is submerged in urban blight, a long stretch of deserted buildings that gets refilled slowly and tentatively with businesses that look like they fell out of a foreign country.
The plaza with the Dollar Tree is in a section more robust with commerce and recognizable chains. A Walgreens perches next to the street, a free standing building that is blindingly well lit and much better secured than the Dollar Tree. That store is tucked into the half-occupied mall that runs behind the Walgreens, empty store fronts darkened like missing teeth, but after our drive it's encouraging to see even that smattering of businesses. The aisles themselves are stocked with the expected goods and we fill our cart with the concrete manifestations of celebration. Early in the rising heat of a Sunday morning, the other patrons of the Dollar Tree innocuously mill about the store, and there is no evidence that we risk witnessing another robbery. Having visited the store in person, it's more clear why the Dollar Tree is a relatively appealing target in this area.
The only real shock I get is when I chirp some comment or greeting to the cashier, who responds, "Yes'm." The syllables are jarring, throwing me into the panic of a long pause as I process a phrase that I've only heard in slavery era movies. Though it feels fraught with class and race issues, I have no real context within which to respond. He seemed to have said it without irony, so I opted to take it as nothing more than a familiar contraction. For all of our experiences in life, it is possible to have new ones at every turn; a few miles down an unfamiliar road can take us to the other side of the planet. Sometimes, we pretend to know or judge things that happen outside our milieu, but I see no place for that.
We are fortunate in so many ways that I cannot count them. It never hurts to be reminded of the different challenges that people face and that our troubles are neither the only ones on the planet nor the worst. The gates at St. Jude open for us and we return to the surreal existence of treatment and the succor of being cared for by the people who are part of our wide-ranging family.
Soccer Mania
The newest branch of the family joined us only weeks ago as Aidan started playing with a local soccer group, the MidSouth Futbol Club. To say that they have embraced Aidan is a gross understatement. After a short stint of camp, the president of the club whisked him off the team for a long-planned training trip in Belgium and France. We quickly arranged for a friend to FedEx Aidan's passport and sent him off on his first European trip.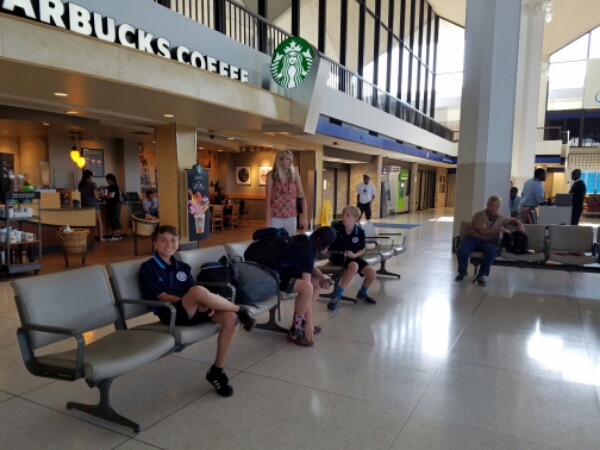 If Aidan were eligible for a wish, it would be this trip. Not only will he be training through Generation Adidas International with the Belgian national youth team, but he has attended two of the EURO games in person, including the match between France and Switzerland. To put this in context, his favorite teams are French, and he picked French as his language for middle school in anticipation of an eventual trip there. Little did he know the trip would precede the classes.
Between the time difference and hectic schedule, we've only talked to him a few times and gotten some reluctantly produced messages through Google Hangouts. However, I've gathered that the food is good, though the pictorial evidence suggests that he is subsisting entirely on waffles and, most recently, ice cream in a waffle cone. Belgium is apparently able to support a fully waffle-dependent diet.
Aside from that, Aidan looks very happy and I surmise that he will sleep for two days when he gets home. He has managed to avoid any of the serious messes out there, despite a series of terror-related arrests in Belgium and a flare incident by the Russians at one of the matches they attended live. He also witnessed the World Naked Biking Day in Brussels, which is cultural experience of a sort.
Memphis Free Public Sauna
While Aidan has been away, the weather in Memphis has become aggressively summerly, the engulfing combination of heat and humidity serving as an unwanted extra garment every time we step outside. We've almost gotten used to the slurry of sweat and condensation that collects on the skin and the slow movement required by the temperature, but it's not as easy for Colin, who wilts quickly in the heat.
The thick damp air holds onto the vestiges of everything it touches. The perfumey sweetness of magnolias, simultaneously delicate and cloying when wafted from a distance, carries tinges of decay. You can smell the browning around the edges of those wide white petals before you see it. The moisture in the air renders it richly organic, exposing the range of biological processes, from the tenderest young blossom to fetid rot. The air carries other gifts, too: smells of unknown origin, whether an unexpected whiff of sulfur or raw sewage. The wind, which brings such unwanted bounty, as surely carries it away.
In contrast with the frigid air conditioning, the heat isn't always unpleasant, and I usually enjoy the first few minutes as I shake off the chill and my muscles release tension. The cold, dry air inside forces me to wear a light jacket most of the time, and I look absurd carrying it between buildings. When I was little, my mother always insisted that we bring sweaters to the movies in the summer because of the air conditioning, and I uncomfortably channel her now when I dispense the same advice or follow it quietly myself.
The heat has forced us to stay indoors for the most part. The mornings are cooler, though not by much, and Colin's endurance under these conditions is poor enough that we haven't yet returned to the zoo. I learned my own painful lesson last week when I had overslept my alarm for the pool on a day when Colin's schedule necessitated an early start, so I decided to put in a few miles instead. Before six, it was nearly 90 degrees and close to 100% humidity. An occasional breeze was a slight relief and encouraged me to push on, but I realized I must have looked close to death when one of the maintenance men, changing the garbage bags in the outdoor trash bins, asked with very sincere concern in his voice, "Are you okay?"
I panted that I was fine but trying to get in the third mile. When I finished my final lap and was on my way back to Tri Delta House, he saw me again and made a conciliatory comment, which I waved off. I did complete my three miles but, once I hit my mark and picked up the room key, I immediately slowed to a gasping walk and realized I was close to passing out. (Because clothing manufacturers haven't seemed to figure out that key pockets need to accommodate electronic keys the size of a credit card, I deposit mine on top of a power generator with a sign that reads "Onan" that makes me giggle inside without fail every time I see it; to make matters worse, the full name of the line is Cummins Onan, which sounds like part of a Jerky Boys phone prank, and there is no explanation of why they used the name Onan to brand this line of generators.)
The kind maintenance guy gave me a congratulatory cheer and I weakly responded with a cheer of my own, pride not fully intact. I managed to make it inside without having to put my head between my knees, but it was a close call.
Maybe Not a Marathon
People often describe cancer treatment as a marathon, not a sprint. I myself use this analogy, but it doesn't capture the nuance of it. Sometimes, it's a sweaty slog that feels unsurvivable at the first blast of air that is too hot and too water-laden, but you press on. A little wind comes by and you feel less oppressed by the heat and you know you can hit another lap, and you press on.  You press on until you don't need to any more, and you humbly settle into a sustainable pace until you need to press hard again.
Decision-making is an exhausting process and the truth of this adventure is that it is cyclical. The more difficult the decision, the more grueling it is, and each push must be followed by a restorative calm. A month ago, the fatigue was a wall that struck my entire body at once, head to toe: inescapable, undeniable. Once we made the major decision to proceed with CSI and shifted into logistics mode, the pressure let up and we could settle into whatever version of normal life treatment would provide us. There are still days when exhaustion radiates from the core, a sweetly painful demand to surrender, an insistent message that there is no pushing through this moment with brute force.
In the end, the result of the dynamic calculus of making decisions is not a single number or mathematical expression but a real living child who has demonstrated a strong tendency to defy expectations. When we expect him to be sapped by treatment, Colin cruises through therapy, delighting everybody with his mischievous sense of humor. Before surgery, he showed us that he was capable of being happy with very little, and now he pulls the slack out of the line, seeking joy and flourishing on love.
I remember during the first cycle of chemo, the first day his ANC hit zero, he wanted to sit up independently and play; he hadn't been able to support himself in a seated position since the surgery a few months before. Initially, I was worried about him tipping over and hitting his head, but I soon realized that he was able to do it and made sure there were pillows around the edge of the crib. It wasn't the day I would have expected him to get up the energy to do that, but that's how he rolls.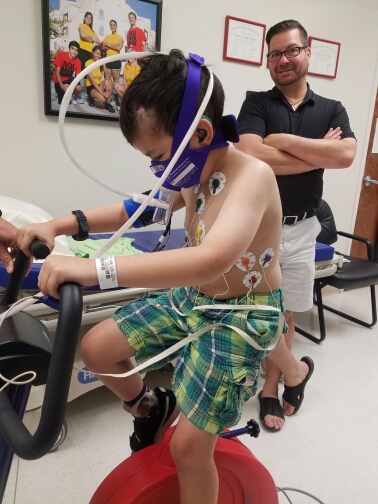 Today, Colin has focused his determination on having fun. Even if he's doing work, he's going to turn it into play and he's very good at enlisting others in his mission. He recently went through a series of fairly tedious performance tests yet managed to keep all of us laughing the entire time. This is treatment, but it is also living—not living as in being alive but living as in embracing life—and Colin's ability to accept the situation with aplomb reinforces our decision to open this door.
We have no clear idea of how much stability this treatment will buy Colin, but it is enough and it is worth the price because Colin makes it so. It would be worth it for just the time spent here in Memphis, asking him to lay prostrate for invisible devastation, while we relish the return of energetic joy that had been leaking out of him months before. He is changed but restored—not restored in the purest sense, but enough so that we can again settle back into a place of contented oblivion. Yet again, we pressed on, stepping into a small chaos that brings back peace and is somehow more pleasurable as a result.