The pressure to synthesize childhood magic is never more intense than at Christmas, the official season of idealized future memoires. If you fail as a parent, you are assured to leave behind you a wake of ruined dreams and the bitter shards of a lifetime of disappointment. Multiply the pressure by some factor if your child is eligible for hospice; divide by another if that child knows that Santa is his parents. I'm okay at math, but not this kind of math, so I've thrown up my hands and capitulated to the random forces of life and improvisation.
Fortunately, we've been able to skirt the creative onus of the elf on a shelf. I don't know when that happened, as it wasn't around when I was a kid, but it's exactly the kind of thing I need to not be worrying about this or any other Christmas. It's a good thing we didn't get started because I'd certainly end up posing him in obscene acts. I once purchased a pair of elf ornaments expressly because they looked like they were engaged in anal sex when I discovered them swinging gently, one behind the other, on their display rack at a quaint Christmas store, so there is a well established precedent for misbehavior on my part.
Maybe it was cheating, but for much of our magic, we relied on the Minecraft room, which feels like a separate compartment in the universe. Besides that, the event of the room reveal forced me to step up the holiday decorating and finally figure out how to display the glass ornaments we've made at Corning over the past few years (on wire ribbon, over an unused curtain rod in the kitchen, which also sounds like a solution to Clue). Ian shopped at Pier One for Christmas decor items like an empty nester expecting the kids home from college. Two pillows, a tree candle that looks like it's sagging a bit and I suspect is defective (perfect, it matches our actual tree), and shiny poinsettia clips whose purpose initially mystified me but we used on the living room windows and hall mirror. To make up for our open concept tree, he also got a Norfolk pine that can accommodate small, light ornaments, of which we have many. The tree came sprayed with glitter, which is good because it couldn't tolerate a strand of real lights, and ended up quite pretty with a little bit of light in the room.
I may sound like a Christmas curmudgeon, though it couldn't be further from the truth. I always loved the season and decorating, baking, and driving in the snow delivering presents to friends. As for Santa, an aggressive effort by my parents to personify him in our house when I was four forced upon me the fact that it was just a family friend and that the whole business was a well meaning farce. I still loved the idea and the magical element of that beneficent figure, but reality has a way of intruding into magic.
In particular, the realization that Santa is not evenhanded in his visits is troubling, as often the children who most need a departure from their own gritty realities are least likely to experience it. For our part, I suppose that we could submerge into bitterness about the only gift that won't be in our stocking that we would really want, but there's no point to that line of thinking and we have more immediate concerns.
The Supreme Pleasure of Normalcy
This period in which Colin has been feeling good has given us some breathing room, and the enjoyment of Christmas is among the true gifts of this time. That doesn't mean that we are immune to haunting feeling that this may be (is likely enough to be) Colin's last Christmas. Though we don't reside in that place constantly, it is still impossible to not feel the shadow of future Christmases that we will celebrate under the pall of a permanently empty stocking. However, this is our problem, not his, and he has regarded the season like a typical eight-year-old boy.
This year more than any, we made note of all of Colin's specific list items. We made late additions because, quite frankly, we have no power to deny him. It's hard to call him "spoiled" when one considers the price he's paid for our weakness. His endless video watching has actually given him a comprehensive education in many different games, so his requests are not made in ignorance or in response to the manipulative
drone of television advertising.
Aidan is nearly impossible to shop for, with a disdain for the material and narrow tastes (soccer, skiing, and computer gaming/video making). I groaned when I saw another soccer ball in the gift pile Ian had created but, once I saw the dragon design on it, I thought it was cool. However, there is still a limit to the number of soccer balls one can endow a child with. Evidently, he's trying to build a computer for gaming and video editing, so mostly he's looking to build his nest egg.
So many people gave us cookies and other baked goods that we didn't have to bake anything ourselves. Though I do enjoy it, this was the year when I particularly relished lying down on the couch, Colin snuggled up against me, watching the movie Elf for the millionth time.
Though we can't escape reality, it is easy in blissful moments like that to stay in the present. The leisure time that followed the holiday, combined with Colin's general good health, lulled us back to a place where the future that lurks down the road seems unreal and very distant; this has been the real and very welcome magic of this season.
Intellectually, I know the facts, but our burst of preparations for that now-hazy future (not complete, but many things are set in place) has allowed us to relax and live in a much more normal place. When my thoughts do turn in that direction to contemplate some very pragmatic fact, like the unfolding of symptoms, it strikes me like icy water. In fact, the merest hint of something that might be a symptom of disease progression has an instant chilling effect that includes the beginning of the painful cascade of considerations that accompany those thoughts.
We have no reason to think the everolimus isn't working and every reason to think that it is. Without concrete proof, however, it is devastatingly easy to feel the grip of vertigo, the sense that our feet have worked further over the edge of the abyss, and the dreaded fall is upon us. This is probably the wrong metaphor for what will unfold; our understanding is that we should expect a roller coaster more than a straight plummet. However, one can't explain that to my limbic system, which has a preprogrammed response.
We face a large set of unknowns in a situation we have little control over. The more control we can assess, the easier it is to face, which is why the planning has been so important. I am greatly reassured to know that I have an emergency anti-convulsive in my purse; I'd like to never have to use it, but I know there is something I can do if Colin does have a seizure. Measures like this are small and have no effect on the overall course of things. They may not even make any difference in the very short term. However, they are what is available to me right now and I am grateful for that.
A Christmas Wish
On the last day of school before the holiday, our wish granters from Make-a-Wish made a trip to Ithaca to announce Colin's wish at school. The other third graders were gathered in the cafeteria for lunch. Colin himself hadn't been in school because he was still recovering from the cold that had sent him to the hospital because of a fever. We came in especially for this event and hid out in the Kids Count (after school program) office.
Colin was shy about the to-do, but Ian and I were excited about the announcement of our upcoming trip to Hawaii for a cruise touring four of the islands. The cruise setting will allow us to see more but also travel in a more relaxing way and the boys will have plenty of entertainment on the ship between ports. One of our concerns, when we originally shifted created to this plan, was that he wouldn't be well enough to enjoy the trip, but those thoughts live firmly embedded in the background and instead we're really focusing on the trip itself.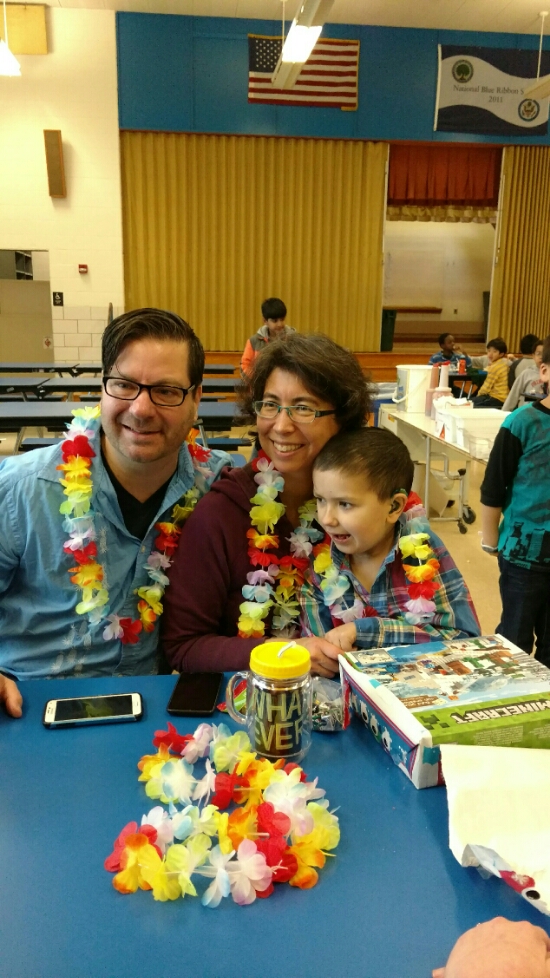 Ian and I grew up in the era of The Love Boat and Fantasy Island, the diptych of Saturday night programming that instructed our generation about vacationing and the fulfillment of wishes; somehow, this trip manages to combine those two elements and throw in a good sprinkle of the Brady Bunch Hawaii special (Luau! Tiki idol! Don Ho!).
While this isn't Colin's first wish (Japan) or second (Atlantis), it will be a wonderful trip that offers a satisfying combination of activities and adventure as well as tropical relaxation. We had to respond to the urgency dictated by the presentation of the disease in November and now we will make sure to hit all the high notes for the boy as long as he is feeling well.
The focus on dream fulfillment is murky water. I long ago learned that, even with avid anticipation of an event, the reality of the unfolding is always quite different and much more mundane feeling. We are still ourselves and rooted in our own consciousness. Growing up, I expected to be overcome at momentous occasions or for such events to be instantly transforming. However, it's like Buckaroo Banzai said: No matter where you go, there you are.
The anticipation is always more thrilling than the real experience, which isn't to denigrate experiences but merely point out that there is a learning curve to this fact throughout life. Framing a trip as wish fulfillment seems to put a lot of pressure on every moment to be special when there will certainly plenty of moments that are actually quite mundane and even boring. Teeth will be brushed. Strange things will happen on airplanes and restaurants, and the more absurd of those will become key anchor points in our recollection of the trip. My honeymoon in Greece is marked notably by a piece of dangerously undercooked chicken procured at the ferry port near Athens, an otherwise unmemorable meal.
We will be amazed by turtles and volcanoes, waterfalls and beaches, but we will also talk about odd encounters with interesting people and other random happenings. To the boys, this is a trip and not actually the embodiment of many months or years of anticipation. For this, I am grateful, and it's what we need.
As with Christmas, I feel the intense need to compress so much into so little, and the expectations of a fairy godmother style of wish are too much for me right now. They probably have always been too much for somebody with a temperament like I have, but I haven't been in a position to notice it so often. It feels much easier to embrace imperfection and the natural blemishes of the chaotic act of living than to try to manufacture pearlescent drops of the ideal childhood for rapid and immediate consumption.
Every parent experiences this or at least a version of it. Despite the fact that humans have the most attenuated childhood of any species, it is an ephemeral state that we know comes to an end. All our children die in a sense when they become adults; one hopes to resurrect those memories and feelings in the form of grandchildren and photo albums and nostalgic holiday reminiscences by a twinkling tree (or whatever serves a similar role in one's holiday tradition).
To some degree, childhood is a place that we hope to come back to in the future, the aggregation of fond memories and enriching experiences formatted within a framework of philosophical concepts and practical life skills. From a mechanistic standpoint, it seems like a simple matter, nearly formulaic, but such is never the case for organic beings.
Forever Failing
In the civilian world, the need to nail it is pressed upon us from all quarters. Pinterest is full of people trying to get it right and giving us an avalanche of things to emulate or run from in terror. The contemporary era of social media, so often oriented around the joyful and harrowing premise of child rearing, has created an intense form of parenting guilt that makes us often respond with anguish or sardonic derision at the creativity of others when we lack the concomitant skills and time to pull off the edible art of a bento box lunch. Not everybody will craft the perfect clever cupcake or charming birthday party activity or concoct a flawless version of macaroni and cheese that conceals kale and chia seeds; the only crime is in pretending that it's universally reproducible or that such creativity is part of a parental prerogative to engage in an arms race of craftiness.
There are no winners or losers. If there are, the measures of success are very different from what I see depicted in social media and haunt one's psyche more deeply. None of our children emerge from our grasp unscathed by our missteps and bad judgment. The question is a matter of specifics and scale.
I don't know that society itself has changed fundamentally, since I surmise that the basic instincts around raising our children are presumably hard wired and fairly static, though the particulars of the standards are highly malleable and culturally driven. However, our ability to communicate rapidly and broadly a highly filtered version of reality has infested or lives with a culture of high achievement that informs how our children should eat and play and learn.
All of these things, especially to me right now, seem like a dangerous diversion. If it's possible to focus so much on getting all of the details right that we lose sight of what's important, it's far too easy for that to happen in the cacophony of contemporary middle class America.
To an extent, we're liberated from some of the more obvious concerns of parenting. Long-term goals evaporated in pieces over the summer until they were eviscerated, completely, by the indifferent pixels of one MRI. Education and therapies have slipped in importance beneath emotional well-being and human connection. We always have to apply a different lens to our children, and Colin's situation only underscores that fact. In the end, each of us muddles through the perilous exercise of parenting.
In pursuit of adventure, experiences, and the creation of family memories, we are grabbing at the brass ring. As long as the carousel keeps spinning, we will stay on this ride and try to keep up with the inevitable changes. Those painted ponies may slow and speed up again, but there is a certain kind of safety in knowing they are moving at all.
The early morning skies have been clouded over for the past weeks, but the other day, a thin shaving of the moon hung among the microscopic ornaments of the stars, so close to disappearing that the edge nearly looked broken. The ends were pinpoint sharp, the acuity gleaming in the darkness. A prick on the fingertip would be invisible at first but soon well up a bead of blood, a quivering and incarnadine precursor of the flow that would follow. All the same, you couldn't stop me from reaching out. I eagerly invite the sting of that wound for the chance to touch the jewel box of the sky and to feel the memory of it all in my sinew and bones, both the glimmering magic and the contorted well of pain that lurks in the places that are untouched by light.