The seasons have flown by in a time lapse blur, flashes of the momentous and the mundane gliding by with relentless speed. It should come as no surprise that Colin has continued to carve his own way in the wilderness, one that nobody did or could have predicted. Following the September news that the tumors had exploded and that his brain was swollen with edema, he continued to improve clinically. The police work seemed like a magical balm, and maybe it was, as the days and weeks slipped into months.
After a period of settling in at home, we decided to head west, visiting family in California and visiting some of the great natural monuments of our nation. It felt important to show Colin the stately sequoias that gather misty calm around their roots, to experience the turbulent and frothy seam of the Pacific and the Route 1 coastline. Most importantly, we reunited with a cousin from my mother's side of the family, fulfilling the key aim of his wish to visit Japan.
We extrapolated a story from the MRI's snapshot glimpse of Colin's brain, but it turns out that we were wrong and that we had been looking at a very unusual case of pseudoprogression, not true progression. Dr. Baker's fantasy that Colin would return in December came true, and we learned that the swelling had gone down significantly and the apparent progression had receded. It was an early Christmas present but one that came saddled with the continued uncertainty of Colin's situation.
Because we started the hospice process in late 2015, we had already plunged into the mindset of marking "lasts" and trying to preserve every memory like a flower pressed in a book. That way of living is exhausting and stressful; it holds no appeal after the reprieve we enjoyed last summer. Even with the news that we were in a similar place, we did not fall back into those habits. In the many months since the original dire news, we have embraced the opportunity to do things together as a family and Colin has been enjoying the satisfaction of feeling like a productive and meaningful member of society (for example, arresting The Grinch). It is impossible to escape the reality and the knowledge that each holiday may well be the last, but it is a relief to allow those thoughts to rest in the background and not the foreground of awareness.
Spring Adventure
In March, we headed to California for a work trip that we intermingled with a family trip in Palm Desert. After the second night, this adventure unexpectedly became another epic milestone. Colin had what we thought was a seizure, perhaps a sign of tumor progression, but it quickly became apparent that he was very sick. We ended up in the ICU at the Children's Hospital of Orange County, where Colin's body was racked with rigors associated with a high fever. Once the fever broke, he was so weak and unresponsive that we had to intubate and mechanically ventilate him in order to give him a chance to recover without contracting pneumonia. It was the fourth time in a year that we faced the prospect of losing him, but Colin pulled it off yet again and woke up.
The doctors have still not fully come to a consensus on what happened, though we believe that he probably had a viral infection that affected his brain. There is no evidence that he has had any ongoing seizures (one theory is that his condition was simply the postictal state that follows a seizure, but it still neither explains the cause of the initial seizure or the reason that he has not seized since then, even after we weaned him from the seizure meds).
We chronicled the dramatic day-to-day events of those two weeks on Colin's Facebook page (I do recommend that anybody interested in more timely updates follow the page, which can be done even without a Facebook account) and are grateful that he recovered to continue his adventures before getting home. After all the excitement, the most triumphant moment was a traffic-disrupting police escort home.
Though Colin recovered well, he has dealt with lasting effects of that event, particularly related to visual and auditory processing. We determined that he doesn't see anything on the right side (both eyes) and seems to experience visual processing issues that distort images, making it very difficult for him to read consistently. At the same time, he has some new auditory processing issues on top of the challenges that come with significant hearing loss and unilateral deafness.
New Treatment Options
During our return visit to St. Jude for a follow-up eight weeks after the California trip, we discovered modest growth in certain tumors. Dr. Gajjar suggested we get a consult at Memorial Sloan Kettering in New York with a doctor there who had once cared for Colin back at NYU in 2009. Dr. Karajannes is now head of pediatric neuro oncology there, and he offered a new trial for Opdivo, a PD-1 inhibitor.
We continued to research trial options and elected to pursue a treatment out of Boston for a targeted drug. After waiting many weeks for the screening results, we discovered that Colin was not eligible for the trial and decided to regroup. At this point, three months elapsed since the last scan and we really need a new MRI in order to make good decisions.
The trial in New York continues to be an option, but we're not sure it's the best choice, so we're barking up other trees in the meantime. Colin returns to Memphis at the end of August for a full "oil and lube." We'll get his hearing rechecked and hearing aid adjusted, not to mention a new assessment of vision and other rehab disciplines.
The Future Awaits
The sand trickles through the hourglass relentlessly, but I have to remind myself that time is the enemy, so perhaps it isn't. The last year has been chock-a-block with periods of activity and rest. Colin loves his downtime and there is a palpable rhythm to that cycle that reminds us that we need to both go on adventures and spend quality time at home.
These months have been a miraculous gift in which we have settled back into a place of normal living but one that is colored with the reminder of the impermanence of life. Colin has grown and matured during this period. He has an incredible commitment to work and sharing his vision of hope and perseverance. Even as his faltering faculties have made it difficult to communicate, he enjoys handing out his business card and the magnet we made to commemorate his 10th birthday.
Colin's 10th birthday was epic, for obvious reasons, and also served as an opportunity to share this occasion with the community. We made it open to the public and celebrated Colin's favorite holidays: Christmas, Thanksgiving, Halloween, Easter, and Valentine's Day. We returned to Stewart Park, the site of Colin's swearing-in, but this time without the sense that he was perched on the edge of disaster.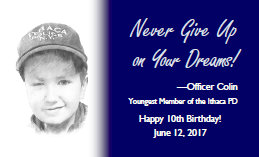 This life is complicated and only one MRI away from the precipice. People ask how Colin is doing and I'm not sure how to answer. He's great, with the asterisks of various deficits and changes, some with more benign explanations than others. At the same time, he is still terminally ill and it is easy to forget that the tumors he currently has might be crippling in another patient. If you really want to know the answer to this question, it will take a lot more than a casual conversation in Target or even 1,000+ words in a blog to explain.
The details are less important than the sketch, which shows a life approximating normalcy revolving around a child with changing abilities, needs, and desires. For the most part, Colin is happy; he spends much of his time singing, even when he is watching shows on his tablet. Recently, he at times descends into uncontrolled rage or sadness and it is better to distract than console. Fortunately, these moments are rare.
Aidan continues to be the helpful big brother, and he is weaning himself from the fraternal habit of teasing his younger sibling. Colin will sometimes reject Aidan's help or take offense at small things, but it seems like he sees in Aidan all of the abilities and skills withheld from him by circumstance. It is no stretch to imagine that Colin may resent Aidan's persistent athletic pursuits when his own balance has become precarious enough that we frantically follow behind Colin as he wobbles up the stairs.
While I do know what the future holds, I don't fully know what it brings. That in itself is comforting, and I can further ward off the thoughts of being on downhill side of the mountain. As we have discovered, those thoughts come flooding back at the return of concerning symptoms or changes. Therefore, there is no need to hold them when they are not warranted.
There will be time enough for fretting, time enough for grief. Cowering in the shadows is only a waste of the sunshine. We can't guess how long the day will last when every passing cloud feels like the onset of dusk.
These are the passing of the hours where I revel in the simple joy of allowing Colin to pick out a pastry or helping him build a Lego set. The pace is simultaneously slower but also less hindered by equivocation or delay.  Time, our erstwhile enemy, has been kind. In a one-year period, we faced Colin's imminent demise four times and we have heard the words, "There is nothing more we can do" countless more. In light of that grace, it would be ungrateful to view the future with fear or dread, so on goes the process of letting go of need and expectation.
Every kiss is a gift, as is every hug and chirpy, "I love you so much." The moments are fleeting but eternal, and in this way I am no different from any parent.